Appointment as a Civil Partnership Notary
In March I was appointed a civil partnership notary in Queensland, which means I am authorised to perform civil partnership declaration ceremonies at the venue, time and date of your choice.

Hot off the press:
My latest book:


The Wedding Etiquette Guide for Social Media Savvy Couples




(Something Different Wedding Guides)

Available from Amazon




Finalist for the 5th year running


2015 ABIA Designer of Dreams

Press Release

Reaching the pinnacle of one's profession is a goal which every business aspires to achieve. Designing Dreams is also a pursuit which every wedding business strives to deliver to their brides.

On Sunday the 8th of February 2015 one of Australia's foremost V.O.W.S. (Vendors Of Wedding Services) Jennifer Cram, Authorised Marriage Celebrant was recognised for her consistent achievement of Designing the Dream of a bride's perfect day as the Australian Bridal Industry Academy presented the 2015 Palazzo Versace Designer of Dreams Awards.

The Chairman of the ABIA, Mr John O'Meara said it was a great privilege and honour to have one of the world's most lavish and opulent Hotels, Palazzo Versace as the major sponsor of the Designer of Dreams Awards. Just like a wedding is a Day to Remember, the 2015 Palazzo Versace Designer of Dreams Awards was a Night to Remember for all 190 attendees who celebrated a night of entertainment, extravagance, opulence and haute couture cuisine.

The 2015 ABIA Designer of Dreams Titles is a national program designed to determine the best Vendors Of Wedding Services in Australia over a consecutive period of four (4) years. Each year the ABIA conducts the Annual Bridal Industry Awards in each of the 5 mainland States of QLD, NSW, VIC, SA, and WA.
Over the past 4 years, the ratings received by each Vendor in the State awards are accumulated under a structured computer based algorithm to determine the contenders for the national awards.

The 2015 national awards were determined by the votes of 126,216 couples who were married over the past four (4) years. These newlyweds nominated a total of 3,476 Wedding Vendors across Australia, of which 697 qualified for the national titles culminating in 199 Finalists and 36 winners.

The Chairman of ABIA Mr John O'Meara said that Jennifer Cram should be extremely proud of being honoured by Australia's peak industry body as one of the country's top Vendors Of Wedding Services, especially when one considers the level of passion and commitment required to consistently excel in the design of products and services which culminate in the delivery of the brides perfect day.



Mr O'Meara went onto to say that the Australian bridal market is one of the most demanding of industries as it requires wedding vendors a one off opportunity to deliver excellence the first time, every time, there are no second chances. Repeating this outcome year after year after year, bride after bride after bride is a daunting task for which thousands of wedding vendors strive to achieve. It is all the more daunting when the entity who determines this outcome are newlyweds who have been through the process of selecting and engaging wedding vendors who have demonstrated their ability to design the ingredients which culminate in the delivery of the perfect day. Jennifer Cram is one such vendor who has consistently delivered these dreams over a consecutive period of 4 years.

Since 1997 the Australian Bridal Industry Academy (ABIA) has been conducting performance appraisals of businesses engaged in the supply of wedding products & services. Over 37,000 wedding business have been through the ABIA performance appraisal.

For further information on the ABIA go to www.abia.com.au and view Award Results.

Hot off the press:
My latest book: The Pregnant Bride's Guide to a Stress-Free Wedding


ABIA 2013 Queensland Awards announced 9 July 2013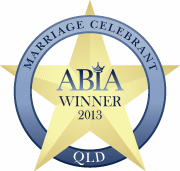 Thanks to all the wonderful couples who rated my services for the ABIA Annual awards, especially the 92.8% of couples who rated me 100% on all four criteria (Product, Service, Value, Attitude),and the 85.7% of couples who also nominated me as their top wedding supplier, I was announced the Winner in the Marriage Celebrant Category

ABIA Designer of Dreams Awards announced 14 February 2013





Press Release


Jennifer Cram CMC announced as one of Australia's Top Designer of Dreams.


On Thursday the 14th of February, Valentine's Day 2012, the Australian Bridal Industry Academy (ABIA) announced their National Designer of Dreams Awards for the most outstanding weddings suppliers over the past four years (2009-2012).

The ABIA conducts a series of awards each year to determine the best wedding suppliers in each mainland State. Combining the results of these State awards over 4 consecutive years, determines the Winners of the National Designer of Dreams Award. These awards are determined by the only entity qualified to do so; past brides, who have been through the process of organizing a wedding and have rated each of their wedding providers based on the quality of their product, quality of service, value for money and attitude of staff.

A total of 7,560 wedding suppliers were rated in one or more years by past brides across 41 wedding categories over the 4 years (2009-2012). Out of these a total of 564 businesses qualified for the prestigious Designer of Dreams award. The total number of past brides who determined the list of qualifiers for the 2012 ABIA Designer of Dreams Awards was 39,735; this was up from a total of 31,251 in 2011.

The Chairman of ABIA, Mr John O' Meara stated that, recognition of excellence is a goal which every business aspires to achieve. Being proclaimed by ABIA as one of Australia's Top wedding providers is the ultimate recognition for any wedding provider. It is a great honour for Jennifer Cram CMC to achieve this recognition of excellence. Mr O' Meara went onto say that it was business like Jennifer Cram CMC which complimented and elevated the wedding industry with their attention to detail and the pride, passion and professional manner in which they delivered their wedding product to the customer.

The ABIA was founded in 1997 as a means of enabling past brides to evaluate the performance of their wedding providers based on ABIA's four (4) Pillars of Perfection being; quality of product, quality of service, value for money and attitude of staff. The ratings provided by past brides enables future brides to confidently select their wedding providers, knowing that past brides have ranked, rated and evaluated their performance.

The Chairman of ABIA said that "a wedding is a one off day where every provider must perform to the maximum as there are no second chances to come back and rectify faults, everything must be perfect. He went onto say that approximately 13 providers are engaged by the bride to design and deliver her dream day, should any one of the 13 fail to deliver perfection, it can create a domino effect which compromises all other providers in the execution of their duty of care to the bride

ABIA 2012 Queensland Awards announced
10 July 2012


Thanks to all the wonderful couples who rated my services for the ABIA Annual awards, especially the 91% of couples who rated me 100% on all four criteria (Product, Service, Value, Attitude). For the fourth year in a row I made the finals - this year in the top 10 again with a rating of 99.84%, with 91% of couples nominating me as their top wedding supplier.





ABIA 2011 National Designer of Dreams Awards announced Valentine's Day 2012
Reaching the pinnacle of one's profession is a goal which every business aspires to achieve. Designing Dreams is also a pursuit which every wedding business strives to deliver to their brides. On Valentine's Day 2012 one of Australia's foremost wedding suppliers Jennifer Cram CMC was recognised for her consistent achievement of Designing the Dream of a brides perfect day.
The 2011 Australian Designer of Dreams Titles is a national program designed to determine the who the best wedding suppliers are over a consecutive period of four (4) years.
The Australian bridal market is one of the most demanding of industries as it requires wedding suppliers a one off opportunity to deliver excellence the first time, every time, there are no second chances. Repeating this outcome year after year after year, bride after bride after bride is a daunting task for which thousands of wedding suppliers strive to achieve. It is all the more daunting when the entity who determines this outcome are newlyweds who have been through the process of selecting and engaging wedding suppliers who have demonstrated their ability to design the ingredients which culminate in the delivery of the perfect day. Jennifer Cram CMC is one such company who has consistently delivered these dreams over a consecutive period of 4 years.
Since 1997 the Australian Bridal Industry Academy (ABIA) has been conducting performance appraisals of businesses engaged in the supply of wedding products & services. Over 37,000 wedding business have been through the ABIA performance appraisal.
The Chairman of ABIA Mr John O' Meara said that Jennifer Cram CMC should be extremely proud of being honoured by Australia's peak industry body as one of Australia's Top wedding suppliers, especially when one considers the level of passion and commitment required to consistently excel in the design of products and services which culminate in the delivery of the brides perfect day.
Contact Me