Pride Ceremonies ®
by Jennifer Cram, Authorised Marriage Celebrant

View Mobile Version
LOVE WON! SAME SEX MARRIAGE HAS BEEN LEGAL IN AUSTRALIA FROM 9 DECEMBER 2017

Here's what you need to do

You have to give Notice of your intention to marry to your celebrant at least a full calendar month before the big day using the official Notice of Intended Marriage

You have show your celebrant proof of your date and place of birth (birth certificate or passport), together with photo ID.
If either of you has been married before you have to show proof of how that marriage ended (divorce or death certificate)
You have to sign a Declaration of No Legal Impediment to Marriage quite close to the big day
On the day you have to have two adult witnesses present. They do not have to be Australian citizens or residents.
Your celebrant still has to recite a passage from the Marriage Act which includes the legal definition of marriage, which now reads "the union of two people"

You have to say certain words to create the marriage
You, your witnesses and the celebrant have to sign the Register and the certificates
And then, you get to live happily ever after as Mrs&Mrs, Mr&Mr, or Mr&Mrs, as the case may be.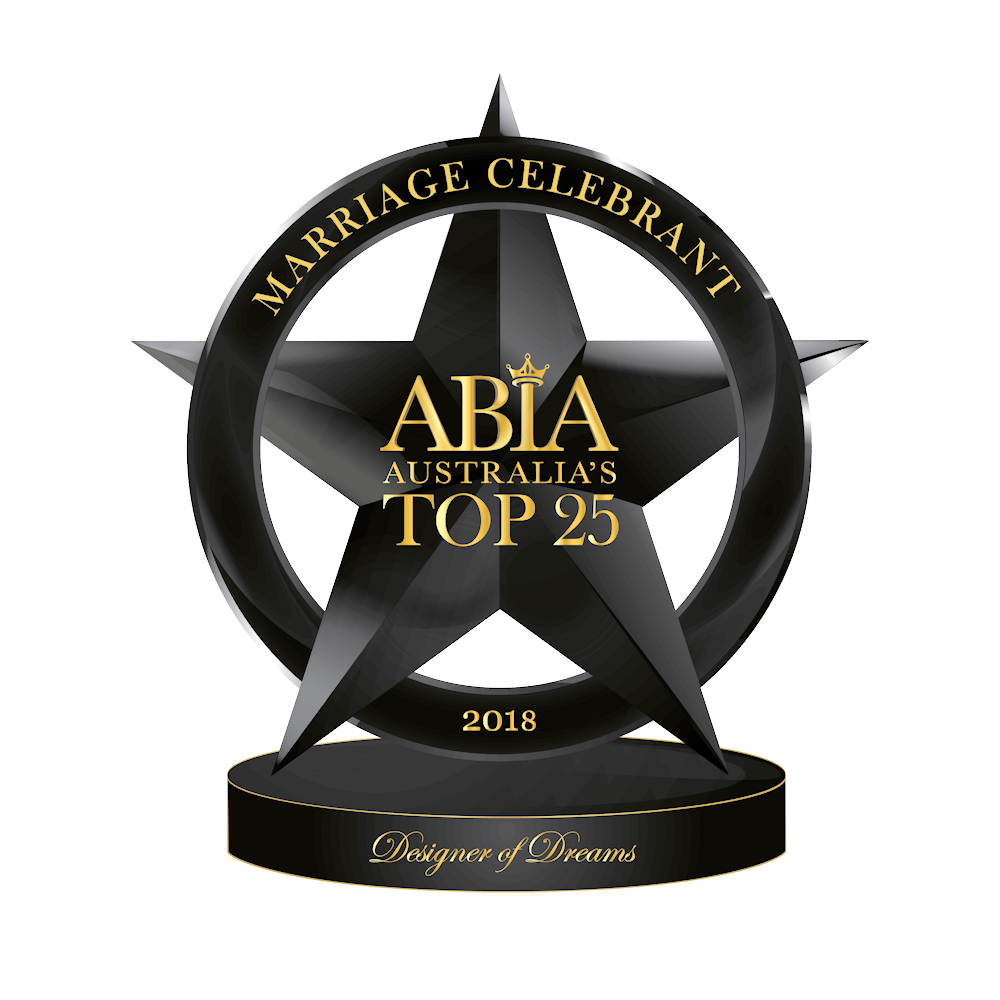 Legal Marriage Ceremonies, Commitment ceremonies, Naming Ceremonies, Personal milestone ceremonies
for gay, lesbian, transgender couples and families
in Brisbane, Ipswich, Logan, Redcliffe, Redlands, Pine Rivers

Queensland's #1 Marriage Celebrant - Winner, ABIA Awards 2013
Celebrating 10 years of providing relaxed, entertaining, non-traditional ceremonies for the LGBTIQ community, initially under the banner of GL-Unions, the first celebrant in Australia to provide a dedicated website focussing on the needs of same-sex couples. Rebranded in 2009 as Pride Ceremonies.

As a Humanist celebrant, proud mother of a gay child, and member of AME and PFLAG, I am totally committed to marriage equality and as a progressive celebrant I am totally committed to ensuring that the ceremonies I create are respectful, celebratory, and fun.
This extends to how I work and what I charge.


While what I charge is affordable, my fee reflects the complexity of the ceremony and the many hours I devote to developing, creating and performing the ceremony.
And, because part of my service is to share with you the negotiating techniques I learned over many years of managing multi-million dollar services, I guarantee that not only will you have a much more emotionally satisfying experience (as will your guests) your bottom line costs for you whole celebration will reflect savings that are more than the difference between my fees and those charged by less committed celebrants.
I do the work for you
Every ceremony I create is purpose created for a particular couple or individual and is therefore is a personally positive experience for you as well as for your guests.
No pre-written set ceremonies or mix-and-match ceremonies.
.
Read more about
what I don't do
(so you know you can be confident that there will be nothing cringe-worthy in your ceremony)
---
Jennifer, we wish to tell you about your feedback... everyone loves you! In our private conversations with other friends & guests present they thought that your presentation was fabulous so don't be in the least bit surprised you will be contacted by a number them for their nuptials - Facebook post by Trudi and Sophia after their Declaration Ceremony.

Well tomorrow will be 2 months since I walked that garden path, up to my beautiful partner and we become one. I can't put into words how I felt on that day, because no words can describe the prue joy, love, excitement, nervousness I experienced. I would love to thank you to our wonderful celebrant Jennifer Cram, what an awesome lady you are. You made us feel very beautiful and let us glowing inside, never have I felt such joy and wonder what was to happen next. You are a

...

treasure to our world. - Facebook post by Lyn who committed to Sunny at Wineglass Falls Gardens.

Just wanted say how wonderful yesterday's ceremony was - so many of our guests commented on how special and personal it was and that they really felt included. Thank you so much for everything and being the backbone of what made our day so perfect. We couldn't be happier!

Shaun & Chris xoxo
---
Pride Ceremonies® are, above all, ceremonies of acceptance. In recognition of the importance of this aspect of your self-expressive ceremony, Jennifer Cram and Pride Ceremonies ® are 100% committed to working closely with you to create a warm, caring, inclusive, and affirming ceremony that, without reservation, celebrates who you are. On the day the ceremonyis performed with warmth and a light-hearted touch.
I am also authorised as a Marriage Celebrant by the Commonwealth of Australia to solemnise marriages 24/7 indoors and out anywhere in Australia. While legal marriage in Australia still focuses on gender, Pride Ceremonies® focus on celebrating relationships and the power of love regardless of gender or orientation.
Please take advantage of my Celebrant Hotline 07 3378 3005. If I am available for your ceremony I'm happy to talk to you about the possibilities for your ceremony and to offer obligation free information about my services and advice of a general nature.

SPECIAL OFFER: Book a Couture or Simpler Couture Commitment Ceremony and receive your choice of a digital copy of one of my latest books (each over 130 pages of detailed information and ideas)

Perfect Wedding Processionals: A Definitive Guide to Making a Grand Entrance for your Wedding or Commitment Ceremony, OR
Fantastic Wedding Finales: A Definitive Guide to Releases, Tosses, Jumping the Broom, and Other Creative Grand Finales for your Wedding or Commitment Ceremony

I look forward to hearing from you and to working with you to make your ceremony truly special, an experience that will set the tone for the celebrations to follow and live forever in the hearts and minds of everyone present.





Warm regards





Jenny




Read my articles:


Read what some of my hundreds of previous clients have said about my services and their feelings about their ceremony

---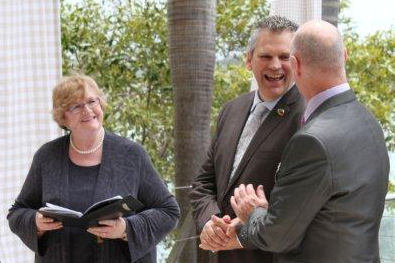 From our very first phone call to Jennifer we found her approach to Craig and James with Jennifer Cram, celebrant for their commitment ceremony be comfortable, calm and competent, whilst being professional yet personal. These thoughts were proved during our first face-to-face meeting. Communication frequency was appropriate. We had given Jennifer specific ideas and expectations of her as a Celebrant and at no time were we disappointed with her suggestions and ideas and final product. The questionnaire gave us the opportunity to reflect as both a couple and as individuals and proved to be a great tool to both Jennifer and us in formalising the ceremony. Jennifer conducted the ceremony in such manner allowing our love to shine. Barely a dry eye in the house our guests commented it was the best, most meaningful, personalised civil ceremony they have ever attended. We would have absolutely no hesitation in recommending Jennifer. We provide this testimonial with our heartfelt thanks. Kind regards and love
Craig & James who committed to one another in October 2012 in the presence of family and friends against a backdrop of gingham Bali flags in celebration of James' trademarked checked shirts. When Craig was saying his vows his spontaneous "Look at me, Kimmy" to James created one of the many magic moments in the ceremony. I felt enormously privileged to be part of the expression of the deep love these two share.

---
Thanks for the perfect ceremony!! We are so glad you were our celebrant. Thank you for helping us through the whole process and for always being so approachable & available!! .The ceremony was beautiful. Perfect. We loved how you personalised the whole service and made it very inclusive of the attendants etc. Everyone there on the day commented on what a fantastic job you did and how lovely the ceremony was. -
Susan & Kath
who held their commitment ceremony in December 2009 at Mt Glorious Getaway

s.
---
We

We just wanted to let you know that

we are featured in the July issue of LOTL magazine.

Again, thank you so much for a wonderful ceremony - our friends and family are still raving about it :)




- Selena & Teresa




Selena and Teresa held their Commitment Ceremony at Woodlands of Marburg in March 2009. They walked down the aisle together to the strains of "All my friends are getting married".




© Copyright Jennifer Cram 2004-current

.

All rights reserved.


The text of this website is the original work of Jennifer Cram unless otherwise identified. it is therefore protected by Copyright Law and International Agreements. You may not reproduce any part of this website, even in modified form, without my express permission.